I DON'T NEED A LIST TO TELL ME I'M SEXY!'
Mehwish Hayat has always been fearless. And this trait of hers seems to have moulded the many facets of her career. It has resulted in a run of hit movies where she has dabbled with diverse roles, and it has prompted her to shimmy to an item song which enthralled but also appalled the country to the extent that, many years later, it still isn't forgotten. Last year, she reached one of the high points in her career when she was awarded the prestigious Tamgha-i-Imtiaz [Medal of Distinction, Pakistan's third highest civilian award]. Most significantly, Mehwish's dauntless take on life has led her to stand out as one of the few local actresses who has a strong socially active voice, pinpointing issues via social media and boldly touching upon sensitive topics on international platforms.
But Mehwish has always been like this — even when she was new to the field, didn't have a long line-up of hits to her credit and wasn't bolstered by a shiny 'Tamgha'. I remember meeting her some six years ago for our last interview. She had been riding the crest of a successful drama, and was at the cusp of starting her film career. Unlike many other young actresses, she had been forthright in her opinions while discussing bullying on TV sets. At one point, I remember her getting teary-eyed as she recalled an experience of her own. She had cried but she had been resolute that she would continue on with the project. This girl couldn't be brought down so easily.
"I have never been afraid," Mehwish muses to me now. "I stand up for myself and for what I think is right. But I make sure that I don't attack anyone unnecessarily or hurt the sensibilities of my audience or the people of my country.
A decade into her career, actress Mehwish Hayat is older, wiser and arguably the most successful actress of her generation. But her real evolution is she now feels she has a duty to speak up…
"I think that my close network of family and friends have helped me stand strong in my beliefs. I don't believe in maintaining fake friendships or asking for work. I have always let my work speak for itself."
Again, I recall her talking about her family at length during that long ago interview. Today, in yet another meeting over yet more cups of tea, she is doing the same, while simultaneously coordinating with her brother for a plan that they have later in the night.
A decade into her career, older, wiser, more successful, how has Mehwish Hayat changed? I let her tell me…
'With great power comes great responsibility'
"I think that now people expect me to speak out on core issues," she observes. "They message me on social media and ask for my opinion. There was a time when actors would be compartmentalised into a slot where they were expected to just look glamorous. That has changed. Everyone has a voice and an opinion, and one of the advantages of social media is that it allows us to speak out freely. As an actor with a certain mass following, I feel it is my duty to try to initiate a change, to start a process.
"I'm very happy, for instance, that I highlighted how hockey in Pakistan is getting neglected via Twitter. A number of other people have also begun to take notice of our dilapidated stadiums. And only recently, the Pakistan Hockey Federation received a grant from the Sindh government."
She continues, "I was always opinionated but I think when I got the Tamgha last year, it triggered my socially active voice. It gave me the confidence, the limelight, the platform and the power to speak out. And with great power comes great responsibility," she grins.
I observe that ever since then, she has become very active on Twitter. "I love Twitter," Mehwish laughs. "I'm addicted to it. But I don't tweet about everything. I know that I have to measure my words carefully, and say things in a way that they manage to make the right impact."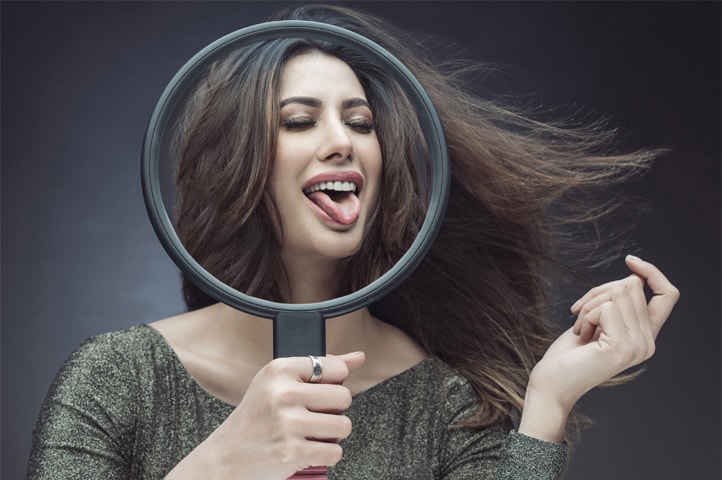 Twitter, however, also frequently pours vitriol against her. She was especially criticised when she received the Tamgha. Snide comments were made about how she was being awarded for her 'item song', and salacious hints were passed that she was being awarded because she had extended certain 'favours' to high officials. She frowns. "It was okay when people felt that I didn't deserve the award. That's their opinion and it was their right to express it. However, they don't have a right to question my personal integrity and morals. I'm a public figure but I'm also a human being. I work very hard and I received the award in recognition of my professional achievements.
"I lashed out only when a website printed a story hinting at certain favours that I had supposedly extended in order to get awarded. So many male actors and musicians have also been awarded the Tamgha-i-Imtiaz. Why doesn't anyone make such suggestions about them?"
I point out to her that she very quickly proved all her critics wrong when she received a Pride of Performance award in Oslo, and candidly addressed how Bollywood and Hollywood were vilifying Pakistan with their negative portrayals, additionally touching upon the issue of Kashmir. "Yes, a lot of people contacted me after that speech in Oslo and said that they had been wrong in doubting me," she smiles.
One critic who refused to get quelled was TV host Aamir Liaquat Hussain who continues to refer to her as an 'item girl' in his tweets. Mehwish retorted back at him only recently when he poked fun at a political statement made by her. "He has constantly been making baseless comments about me, and I had ignored him so far. But then, I decided to speak out. Sometimes, when you remain silent for too long, people assume that you are weak or guilty. And I'm not. I'm an entertainer and I will take on whatever project I like. I don't regret any of the work that I've done. But I also have an opinion and I will express it if I want to on social media, as well as other platforms.
"I just think that times have changed. When I received my award in Oslo, I decided that I couldn't just look pretty. I wanted to make my voice be heard, and to represent my country in the right way. Following the speech in Oslo, the BBC and Sky News contacted me for interviews. CNN asked me to write an opinion piece. I'm the first Pakistani actress to have been invited to such platforms and been asked to talk about socially relevant issues. It shows how the world's perception of Pakistan can change."
Mehwish continues, "Bollywood is a calling card for India. Pakistani actors and actresses are also representatives of their country. And, as our cinema strengthens, I hope that it will also become recognised as a window that shows a different side of Pakistan to the world."
Speaking of Bollywood, having so openly critiqued it for creating anti-Pakistan storylines in her speech in Oslo, does she wonder if she has marred all chances of working in the mammoth film industry across the border? "That's alright," she shrugs. "People told me after my speech that now I'll never get work in Bollywood but then again, I've never aspired to work there. I've never been in awe of them. And I don't want to try to work in an industry where they may ask me to leave at any point because of political issues. I value my self-respect over everything else. Besides, there are so many other international avenues to explore and I enjoy the work and appreciation that I constantly get from my own country."
Work, life … and how being sexy doesn't matter
It helps that appreciation from her own country has come easily to her. In an industry where many of her peers wait in vain for that erstwhile blockbuster, Mehwish has always had interesting, prestigious scripts offered to her. Her films have all been declared as hits and she's a mainstay with two of the country's most popular filmmakers: Six Sigma Plus and Filmwala Productions. "It isn't as if these producers only offer scripts to me, but yes, I'm lucky that I have often been their choice," says Mehwish. "I count them as my friends — Humayun Saeed, Nadeem Baig, Nabeel Qureshi and Fizza Ali Meerza — but that doesn't mean that we always have to work together. I always take on projects that interest me and I believe in. And then I work hard, doing my best to make it work."
Her most recent movie was Wajahat Rauf's Chhalawa in 2019 — a movie that garnered critical reviews but went on to become a commercial success. "Do you know that Chhalawa had the sixth biggest ticket sales on its opening day in Pakistan?" she says. "It was an entertainer and people loved it. I always knew that it would be a success."
Does she think that the opening sales may have had something to do with her name being in the cast? "I'm sure that people came to see it for different reasons but, to this date, my movies have earned a total of about 180 crore rupees, according to box office details. That's a box office draw that is second only to Humayun Saeed. There was a recent statistical survey on the internet rating the actors with the biggest box office earnings. We need to have a similar poll for actresses. Actors don't just draw audiences to a movie — actresses do too."
Despite all her many achievements, she is yet to win a Lux Style Award for her acting. Does that hurt? "No, it would hurt if I didn't win an Oscar," she smiles. "But jokes aside, no, it doesn't hurt. What matters most to me is that people are willing to spend their hard-earned money to watch my movies. So many of them do."
Her recent turn towards social activism has made many people wonder if she is going to be dabbling in politics soon. Could this possibly be the case? "Not yet. I enjoy being able to say what I want to say. If I were in a representational role, associated with any one particular platform, I would have to measure my words more carefully. I'm not ready to do that yet. But never say never — maybe in 2028!"
"Right now, I'm very happy when I'm included in a list such as the one published by the international magazine Muslim Vibe, slotting me amongst the top five Muslim women challenging stereotypes."
There was another list, I remind her, where she was amongst the 'Top 10 Sexiest Asian Women', according to UK's Eastern Eye magazine. "I remember how I was in such a list 10 years ago and had been very happy. But it doesn't make me happy now. We live in a different world now and we don't need lists recognising women on the basis of their looks instead of their achievements. How does this, in any way, support the empowerment of women? I'm sexy, I know it — I don't need a list to tell me this!" she quips.
We shift gears to another topic: is marriage on the horizon for her? "Not yet and I have very specific goals that I want to achieve. But you never know, when the time is right!" she says.
What is on the horizon, then? For now, she is gearing up to soon begin shooting her next movie with Six Sigma Plus, London Nahin Jaunga, once again opposite Humayun Saeed. She has also frequently ventured into singing and hopes to take her musical career further in 2020.
And will she continue on with her commentaries on Twitter? "Always!" she laughs.
courtesy daily Dawn